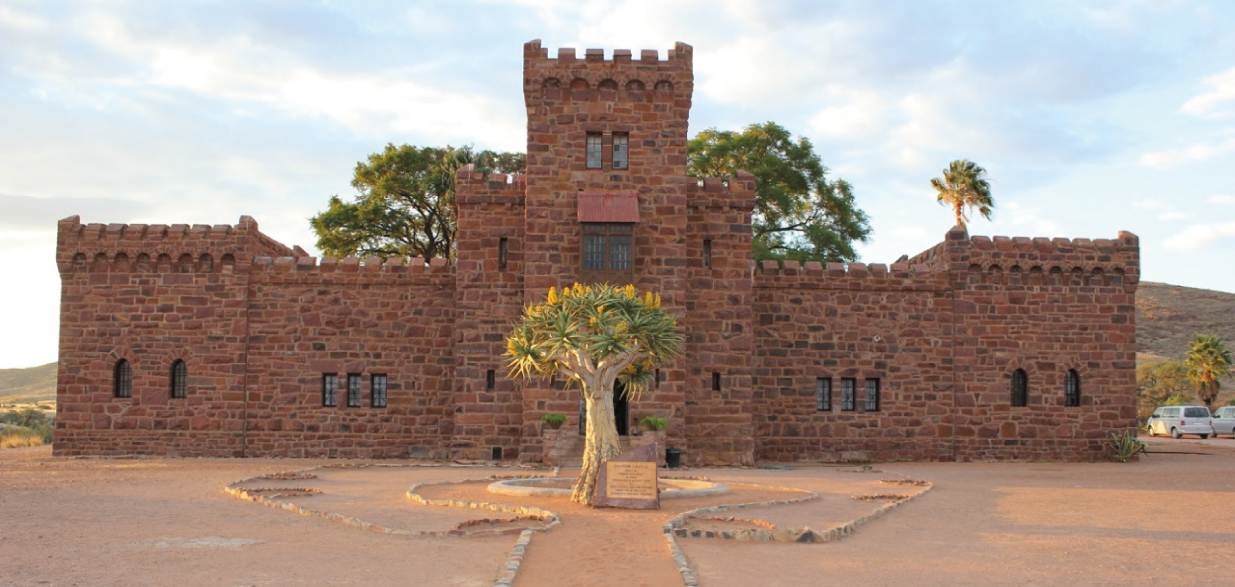 Duwisib Castle Camp
As well as being an historical site and national monument, Duwisib Castle is a convenient stopover when travelling from the popular Sesriem and Sossusvlei area.
Duwisib Castle is situated to the east and slightly south of Sossusvlei near Maltahohe and makes a great stopover location if you are heading south from Sossusvlei to Luderitz, Ai Ais or the South African border.
Duwisib Castle offers the visitor a glimpse of German colonial times. The castle was built in the early 1900s, and today Duwisib Castle houses a museum with artefacts from this extravagant era brought to South West Africa from Germany by ship.
Allow four hours to travel the 200km from Duwisib Castle to Sossusvlei (or vice versa).
Castle Rooms
There are five (5) rooms located inside Duwisib Castle, allocated as Alfa, Bravo, Charlie, Delta and Echo. Each the the rooms at Duwisib Castle have two single beds surrounded with mosquito nets, an en-suite shower room, a tea/coffee station and wardrobes.
Honeymoon Suite
For that special occasion book into the honeymoon suite. The honeymoon suite at at Duwisib Castle has a king size bed surrounded with mosquito nets, an en-suite shower room, a tea/coffee station and a wardrobe.
Camping
Set in the bush there are only ten (10) camping sites at Duwisib Castle sleeping a maximum of 8 people per site. Campers at Duwisib have use of the clean communal ablution block with showers and toilets.
Frequently Asked Questions
Attractions:
Duwisib Castle Camping is situated in the middle of the Namib Desert and is therefore a wonderful place to enjoy one of the most amazing night skies you may ever see with stars stretching right across the sky, so before you climb into your tent remember to get a drink, pull up a chair and gaze upwards.
Any Questions?
We would be more than happy to help you. Give us a call or email us, and we will get back to you asap.
021 8135868
travel@toursa.com