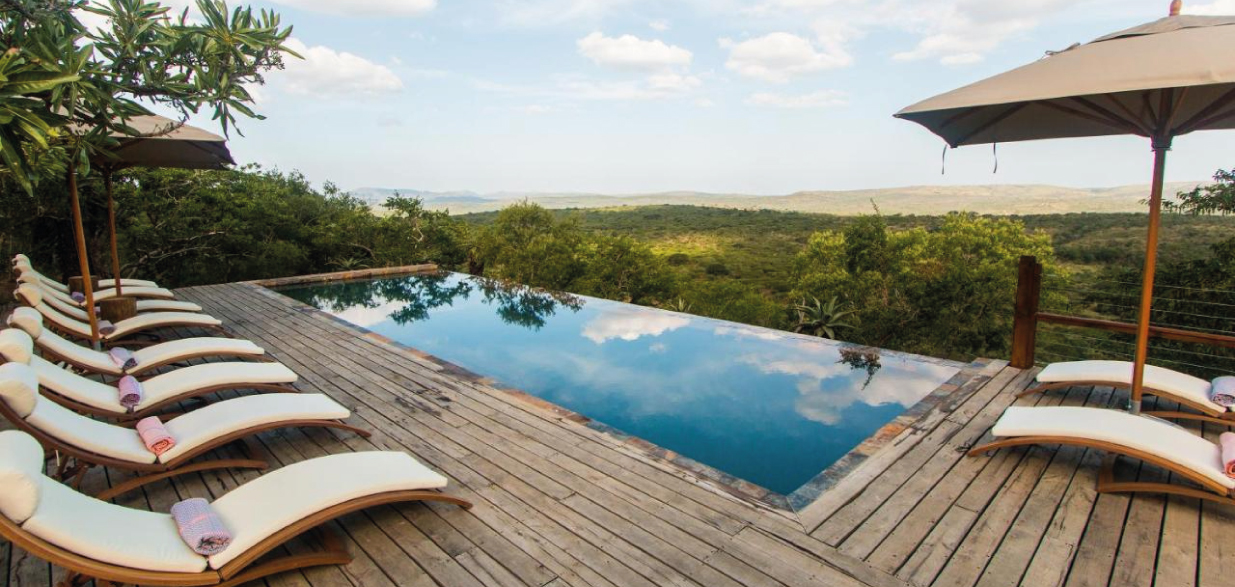 Rhino Ridge Safari Lodge
Experience a luxury safari in the Hluhluwe iMfolozi Park, situated in the province of Kwa-Zulu Natal, South Africa. The Hluhluwe iMfolozi Park has an interesting history claiming to be the oldest proclaimed game reserve in Africa and the former hunting grounds of the Zulu Royal family. The park is made up of two game reserves previously known as the Hluhluwe Game Reserve and uMfolozi Game Reserve. Rhino Ridge Safari Lodge is the only private lodge in the park offering a chic alternative to the traditional park accommodation.
The park has three entrances, making it easily accessible from Swaziland in the north, Richards Bay Airport 1.5 hours east and an easy 3.5-hour drive north from King Shaka International Airport situated near Durban.
Safari Room
With glass sliding doors opening onto expansive bushveld views, these spacious Safari Rooms are designed to bring the outdoors in.
Safari Family Room
These interconnected, spacious rooms are ideal for families travelling with children or two couples travelling together.
Luxury Bush Villa
These villas feature an open plan design with a lounge area, cosy fireplace, and a large viewing deck that looks out onto the expansive bushveld.
Honeymoon Villa
These spacious, secluded villas have sweeping views of the bushveld and a private plunge pool, a setting you'll fall in love with.
Frequently Asked Questions
Accomodation:
Rhino Ridge Safari Lodge is the only private lodge in the Hluhluwe iMfolozi Park, providing guests with an exclusive luxury holiday and outstanding service within South Africa's oldest national park.
Each luxury room or villa is stylishly decorated and includes a spacious bedroom with impressive views from the bathroom, outdoor shower and outdoor deck. From each carefully considered space, you can watch the wildlife below, uninterrupted in their natural habitat - as they have been for decades in this protected area.
Experiences:
Along with exciting game drives, Rhino Ridge Safari Lodge offers a host of other activities so that guests can enjoy an authentic African experience - from wild bush walks to traditional Zulu homestays and rejuvenating spa treatments overlooking the watering hole.
Home of the Rhino:
In the early 1900's white rhinos' numbers had dwindled to as low as 50 - 100 left in the world, and all of them were in the Hluhluwe iMfolozi Game Reserve. Today, South Africa's first game reserve is still home to the densest population of white rhino on the planet.
Any Questions?
We would be more than happy to help you. Give us a call or email us, and we will get back to you asap.
021 8135868
travel@toursa.com