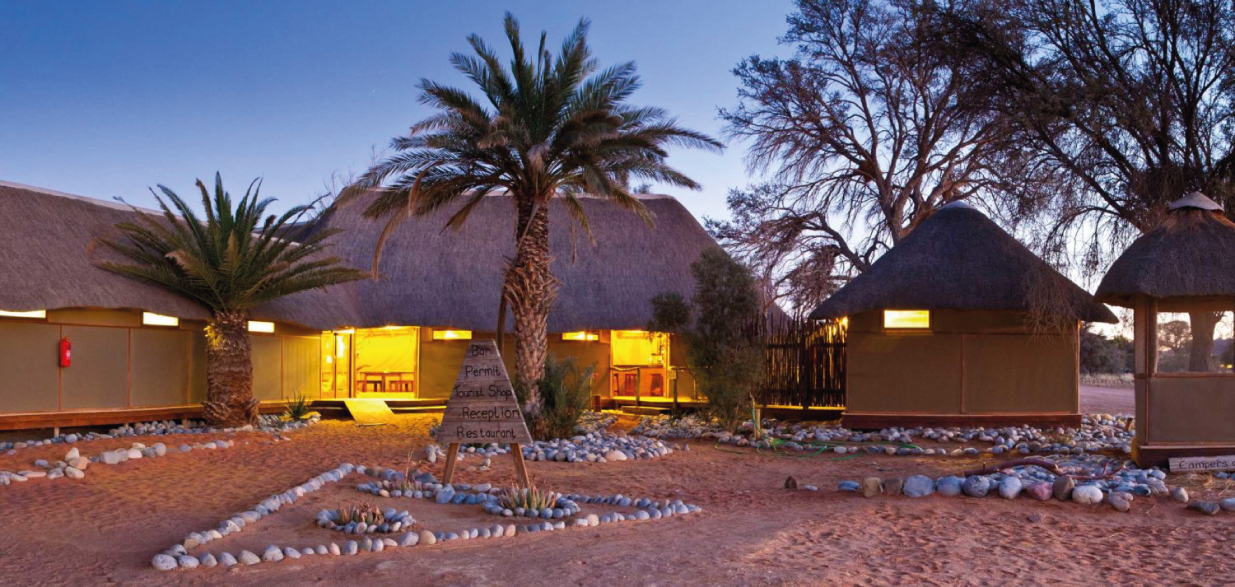 Sesriem Campsite
Located perfectly at the entry to Sossusvlei just inside the park gate. Sesriem Camp is run by Namibia Wildlife Resorts and is just a short drive from Sesriem Canyon and right beside the gate to Sossusvlei and the Namib Desert.
Sesriem Camp is one of only two Sesriem camping sites available inside the gates of the Namib Naukluft Park at Sossusvlei giving it unique early access to the Sossusvlei dunes and the Namib Desert in the mornings.
The exterior gate into Sossusvlei and the Namib Naukluft Park opens at sunrise, one hour after the Sesriem camping site gate into Sossusvlei. The earlier opening of the Sesriem Camp gate gives campers at Sesriem camping sites the opportunity to be deep into the desert in time to watch the sunrise.
Camping
You will find twenty (20) Sesriem campsites at Sesriem Rest Camp, each campsite set in the shade of an ancient camel thorn trees. Sesriem campsites at NWR Sesriem Camp are well spaced surrounded by a low wall.
Each campsite has a braai pit (BBQ), water tap and animal proof rubbish bins. Clean communal ablution blocks offer showers and toilets to those staying in NWR Sesriem campsites.
Frequently Asked Questions
Accommodation:
Sesriem Camp only offer camping, no rooms are available, you must bring all your own camping equipment (tent, sleeping bag and cooking equipment).
Any Questions?
We would be more than happy to help you. Give us a call or email us, and we will get back to you asap.
021 8135868
travel@toursa.com